Cher and Meat Loaf – Dead Ringer For Love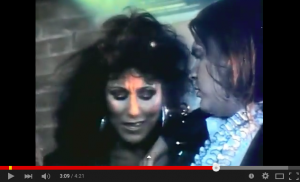 Novembre 1981. In Inghilterra esce in singolo un brano dalla storia bizzarra. Scritto da Jim Steinman, Tony Hendra e Sean Kelly e interpretato da Michael Simmons come sigla serial televisivo Delta House, viene poi rielaborato da Steinman  nella melodia e nel testo per diventare la title track del terzo album in studio di Meat Loaf. Al riarrangiamento partecipa anche Cher, che lo canterà con Meat Loaf e sarà anche (splendida) protagonista del clip, destinato a diventare uno dei più gettonati dell'epoca, tanto da essere definito da William Ruhlmann, direttore di Allmusic, un "long-lost outtake from the Grease on steroids".
Meat Loaf riproporrà il brano dal vivo per tanti anni a venire, con partner diverse, mai con Cher, che non lo porterà mai in concerto, limitandosi a includerlo in una sua Essential Collection degli anni '90. Tosto, carico di immagini, di ritmo ed emozioni, il brano ha un arrangiamento barocco tipico di Jim Steinman.  Il video è una storia d'amore rock che mette ancora oggi i brividi.
https://youtu.be/XI9RJwH9Ne4